Download Virus Removal Tool and remove viruses!
Virus Removal Tool was created by Security Stronghold LLC to help users to remove viruses and other dangerous software. This modern program is universal and is able to protect your PC against malware, spyware, keyloggers, Trojans and unwanted browser add-ons. If you want to scan your computer with this program, you are welcome to download Virus Removal Tool, using the download link here.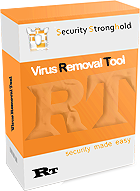 Download Virus Removal Tool Right Now
Virus Removal Tool by Security Stronghold LLC helps to remove viruses from your computer
Price for the license: $19.95
Download
Virus Removal Tool features
Virus Removal Tool is a paid program, but you have the opportunity to scan your computer for free in order to understand if there are any viruses on your computer. And if there any, then you can pay for the license and remove all dangerous objects and you need not scan the system for the second time, because all the scan results will be saved for you.
Virus Removal Tool has an every-day updated base of signatures and that is why this program is able to remove zero-day viruses that appear every day.
You are welcome to download Virus Removal Tool from this page, to install it and to use it for your computer protection. Use Automatic Scan to detect viruses on your computer. Automatic scan does not want you to have any special technical knowledge; this feature will do everything for you, because programmers have already set this option. You can just click the Start Scan button and wait for the end of the scan. Then the program will let you a chance to look through the malicious objects that it is going to remove.
Also Virus Removal Tool has two additional options, you can find them in the Tools tab. Reset Browsers is a good features that let users to reset all the installed browsers to their initial state. This feature removes all the redirects and browser extensions, including the advertising browser add-ons that annoy with their pop-ups and ads. If you are tired of the search engine that is always in your browser and you cannot change it, then Reset Browsers button is for you.
You are welcome also to immunize your drives, choosing the drive that you are going to protect from viruses and then click Immunize button. Using this feature you will protect your drives from the viruses that could be installed on this drive in the future.
System requirements.
Compatible with Windows XP/2003/Vista/Seven/8
256 MB of RAM
125 MB of available hard disk space
Virus Removal Tool Screenshots