Results window
This window shows the list of all privacy leaks located on you computer.

| | |
| --- | --- |
| | Notice that some privacy leaks might be unsafe to remove. That means that their cleanup can cause some applications to function a bit unstable. Dangerous privacy leaks are not checked by default. |
VIP Privacy provides detailed description of every privacy leak found in your system. In this way you always know what kind of information you will delete while solving these leaks.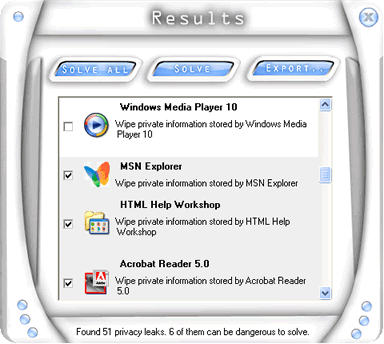 Solve All: Removes all checked privacy leaks from your system. Notice, that by default only safe to remove leaks are checked.
| | |
| --- | --- |
| | Please look carefully through the list of selected leaks before you press this button. You will not be able to restore removed information that you might want to keep (like your browser's Favourites, for example). |
Solve: Removes one currently selected privacy leak

Export: Exports the list of privacy leaks into a text file for your future reference. More detailed information about this feature is found here.